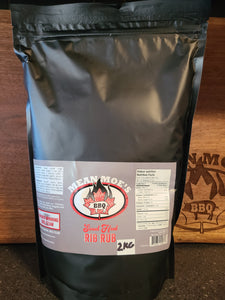 Mean Moe's BBQ Sweet Heat Rib Rub is an Kansas City BBQ Society Award winning Rub. 
Now available in a 2 kg resealable bag. Perfect for refilling your empty bottles for competition, catering or back yard use.
Sweet heat is going to give you all the flavour you want with a little kick of heat on the back end. We blend 3 types of sugar White, Turbinado & Maple  into this rub to give you a very rich deep savory flavour profile.  Sweet Heat Rib Rub is made for your Ribs and Pork Butts, but will also shine on chicken wings, veggies, fish and anything else you find in the kitchen. Become the BBQ King of your neighbourhood.