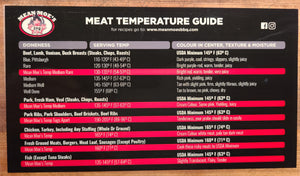 Follow Mean Moe's BBQ Meat Temperature Guide to the perfectly cooked cuts of meat!
Meats prices are to high to second guess your internal temperature for Medium Rare.
Specialty cuts of meat included (Venison, Duck, Brisket, Ribs)
Our guides are Laminated and will handle all the saucy fingers and weather conditions you can throw at it.     
Simply wipe & go.